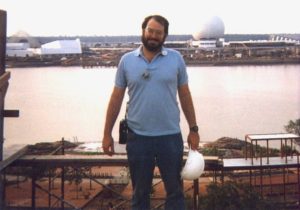 Although far from the first book I published, Building a Better Mouse is certainly the first book I ever wrote. It just took 25 years to get it into print!
My co-author, David Green, and I both worked on the design of Disney's EPCOT Center in 1982. A couple years later I hired David as a technical writer, and we used our spare time to work on a book about our experiences.
After collecting a lot of material, doing a lot of writing, and taking a crack at putting it together in some sort of order, life intervened. We ended up on opposite sides of the country.
The project lived on floppy disks and receded from our memories.
But them, as the 25th anniversary of Epcot approached, I thought, "Why not publish what we did, to commemorate the opening?" So I dredged up those floppies, gave the manuscript some polish, and we ended up with one of the most popular Disney books of the year.
By the way–it's fortunate we wrote all that stuff down in the mid-80s. We could never have remembered the juicy details if we'd waited!
Building a Better Mouse:
The Story of the Electronic Imagineers Who Built EPCOT
On October 1, 1982, The Walt Disney Company opened its EPCOT Center to the world, heralding changes that would take the Disney property in Florida from a mere theme park to a world-class resort destination.
Authors Steve Alcorn and David Green were there, as employees of Disney's WED Imagineering, and they capture the design and building of what is now called simply Epcot in Building a Better Mouse.
Released to celebrate the 25th anniversary of the opening, Building a Better Mouse tells the tale of the "hundreds of mostly young, mostly bright and all embarrassingly idealistic people" who worked on Epcot, and gives a unique insider's perspective on what it was like to be in the trenches as a Disney Imagineer in the early 1980s, from pixie dusting – when new employees are indoctrinated into all things Disney – through the craziness of the engineering design process, right up until the last frantic dash to opening day.
This updated 30th anniversary edition includes a selection of the authors' behind-the-scenes construction photos.
It is a breathtaking, breezy, E-ticket ride of a book, required reading for both hard-core Disneyphiles and people interested in the business side of themed entertainment.