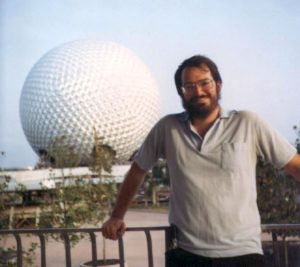 The first online class I ever created was not about writing. It was about theme parks.
I began designing for theme parks in 1982, following my wife into the profession. In 1986 I founded Alcorn McBride Inc, which makes the audio, video and control systems used in nearly all of the theme parks. So I've been in the field a long time, and felt I should pass some of that knowledge on.
The course was originally offered through 1500 colleges around the world, but I later hosted it myself at imagineeringclass.com. It's very popular with students who want to become imagineers.
While the modern version of the course uses video lessons, it also includes the original college course text. And that's what you'll find in this, my best-selling book by far: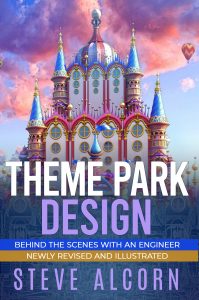 Theme Park Design:
Behind the Scenes with an Engineer
Have you ever gone to a theme park and wondered, "How did they do that?" At last there's a book that shows you.
Theme Park Design reveals the secrets behind some of the world's greatest attractions. Take a peek behind the scenes, with a theme park engineer. Aimed at theme park enthusiasts, the book features behind the scenes information based upon author Steve Alcorn's 35 years designing attractions.
The story follows the development of an attraction from "Blue Sky" design to opening day. Along the way it reveals the engineering tricks used to build many fan favorite rides. "This book shows you the secrets behind the magic," says Alcorn.
Theme Park Design explores ride control, mechanics, audio, video, lighting, special effects, animated figures, art direction, and much more, with insider commentary.
The author illuminates the fast-paced world of theme park design through tales of calamity and triumph, sprinkled with many humorous anecdotes. He also offers career tips on becoming an Imagineer. A must-read for every theme park enthusiast!