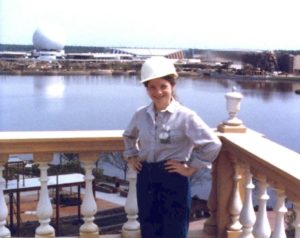 My wife spent 38 years designing theme parks for Walt Disney Imagineering, so it seemed only natural to ask her to help out with my second children's book, about a monkey who gets her friend to help construct a theme park.
My wife also prides herself on her fine doggerel, which she chiefly uses in very entertaining emails. But I think her verse is far better than that. It's witty and precise and often very funny.
This was another project to demonstrate modern publishing techniques for my students. I sketched out the illustrations and then hired artists through fiverr.com to create them.
Although relatively inexpensive, the process proved much more time consuming than I'd imagined, taking over two years to complete. The main problem was that artists would get part way through the project and then disappear, leaving to the next artist the very difficult task of matching the drawing style. The third time was the charm, though, when I found a very responsive artist from India who stuck with the project all the way through. The total artwork cost came to about $2000.
In addition to on-demand full-color printing, I also wanted to demonstrate the capabilities of Amazon's Kindle Kids' Book Creator. The program doesn't just turn text into an e-book, it allows you to create popup boxes and interactive areas on your artwork. I had a fun time with that, and even slipped in a few jokes for the parents.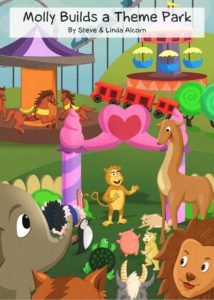 Molly Builds a Theme Park
When the circus packs up for the season, the animals quickly grow bored. But Molly Monkey organizes them to build the theme park of her dreams. Together they accomplish their goal, and then discover the joy of sharing with others.