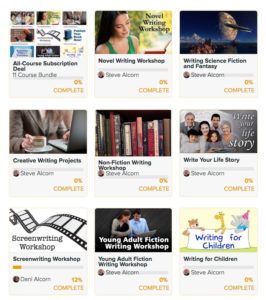 My daughter Dani and I have created many online classes, available through Writing Academy. Several of the video classes expand upon the written college-level courses offered through ed2go, taking advantage of the additional depth provided by a video presentation.
Of all these courses, our favorite is Young Adult Fiction Writing. It's a subject dear to both our hearts, and one in which we've both written extensively.
Our Young Adult video course is not just a rich source of information, but also a spirited exchange of ideas and opinions. My favorite part of the course is the discussion of our favorite books, where we explore everything that makes them great, from plot to covers. And of course, that makes it a great source of inspiration for your own Young Adult novel.
We had the course transcribed, and then began what turned into a two-year editing project to produce what I believe is the very best book you can purchase about Writing Young Adult Fiction.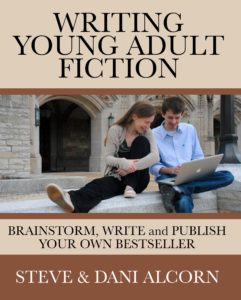 Writing Young Adult Fiction:
Brainstorm, Write and Publish Your Own Bestseller

Do you have a Young Adult novel idea, but aren't sure where to begin? Have you started a novel, only to get stuck? Or perhaps you've completed a first draft, but want to add the luster of professional writing? This book is for you!
Featuring lively interplay between Young Adult Fiction authors Steve and Dani Alcorn, this engaging book gives you all the tools you need to create a bestseller.
You'll learn how to use the techniques of top-selling authors to create your own finished novel and get it published!
You'll discover how to build a perfectly structured story that's guaranteed to work, and populate it with realistic young adult characters, We'll reveal the viewpoint and tense that's most likely to create a bestseller.
You'll learn how to create vibrant settings and realistic dialogue. And we'll let you in on the secret of unforgettable beginnings and endings.
Then we'll show you how to polish your manuscript to perfection.
Once your manuscript is complete we'll show you how to get it published, and give you examples of book covers that sell.
We'll even show you how to market your book to maximize your readership.
So join us on this exciting journey. Let's turn your Young Adult idea into a published novel!