After a decade of publishing young adult novels and teaching classes in all types of writing, I was asked to revise and take over a class in Writing for Children. It seemed appropriate to publish some books for children, and the first of these was based on my adopted home town of Orlando.
In publishing this book, I wanted to test and demonstrate to my students several modern publishing techniques, including the quality of full-color on-demand printing that is now available. And I wanted to create a book entirely using images that could be purchased from stock photo sites.
Orlando ABC went from concept to first printing in less than a month. The total production cost, consisting of photo rights, was less than $500.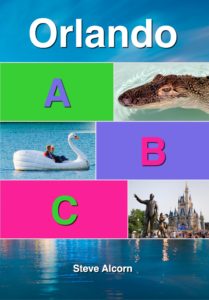 Orlando ABC
Alligators, Boats, Castles and Dinosaurs! Explore Orlando's attractions alphabetically from A to Zoo!