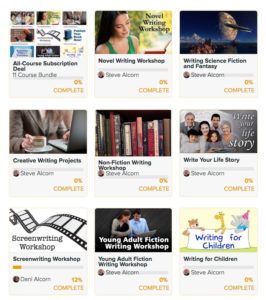 I've created many online classes, available through Writing Academy. Several classes are ones that students requested, including my Write Your Life Story course.
At first, I was resistant to the request. What did I know about autobiography? But then I realized my two best-selling books were both autobiographies: Theme Park Design and Building a Better Mouse. How had I written them, and what aspects of the process could I pass on to my students?
A course was born!
Students also often ask me for textbooks to accompany courses. Frankly, it takes a lot longer to create a book than a video class. So this time I decided to try something new. I hired a company through fiverr.com to transcribe the many, many hours of video in the course. That provided the raw basis for the text.
I won't say the transcription was perfect. And no matter how well I may think I speak, when it's literally transcribed I come across as a bit of a… well, moron.
But it was a starting point.
It turned what would have been a six-month writing project into a one-month editing project. And that was certainly worth the $300 cost of the transcription.
If you'd like to tell your own life story, or that of a family member, I think you'll find this a great way to get started.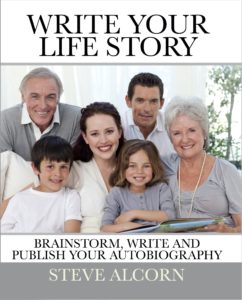 Write Your Life Story:
Brainstorm, Write and Publish Your Autobiography
This fun and exciting guide shows you how to write an autobiography or biography that will bring your story to life.It begins by introducing you to all the different forms a life story can take, from journals to blogs to magazine articles to complete memoirs.
Then it helps you organize your story into either chronological, thematic or anecdotal form.
You'll receive a powerful set of writing tools, and learn how to use story structure, viewpoint, dialogue and settings to make your story clear and vivid.
A comprehensive collection of writing prompts helps you collect and organize the events that shaped a life.
Finally, you'll learn exactly how to get your book published and into the hands of your readers. Whether you want to share your story with the public or just your family, this book gives you all you need to create a wonderful gift for future generations.